The first book in the Scorpion Press series of Signed Leather bound editions was a spy thriller – The Year of the Scorpion by Michael Hartland.   Nine books with a war-time or Cold War espionage plot have appeared in nearly thirty years, and more are planned.  Here are the books  that are currently available:
ALLBEURY, Ted /apprec. by Deighton. Len, SHOW ME A HERO 1992 1/99 #   Ted wrote wrote over 40 novels (1970 – 1990s) and was one of the few real-life secret agents that has seen and done the things one reads in fiction. During the war he was an SOE agent working behind enemy lines in Africa and Italy. He was a "top agent" and parachuted into Nazi Germany on missions. After the war he hunted down Nazi's and he resolved to turn them to form a network against the Communists in East Germany. Unfortunately, he was captured and tortured. While working undercover he discovered some secrets about collusion between the CIA and MI6 to bring about rearmament and blame the Russians (false expansion plans). Some twenty years later Ted was personally involved in a kidnap and ransom against his family. He used his old contacts to get them free. Ted Allbeury was a real life hero and used his experiences in many successful novels. Show Me A Hero is based a a real double agent that helped several American Presidents with insights into what the Russians were planning. Good on the Cold War and McCarthy. Ted's close friend Len Deighton did the appreciation. Note that several of Deighton's books were derived from Ted's passing on his experiences. 1/99 signed limited £45; deluxe lettered 1/20 with raised bands and also signed by Deighton enquire.
DEIGHTON, Len /apprec. by Keating. H. R. F., VIOLENT WARD 1993 1/130 #  During Len's varied career before becoming a full time writer of spy thrillers and military fiction he travelled a good deal. Here in Violent Ward he gives as a darkly funny novel with the hero a small time lawyer on the West Coast. The President of the Detection Club, H R F Keating wrote in his three page appreciation that VW is to my mind a good a book as any he has written. What a delight to read a novel that gives you a small pleasure on each and every page, sometimes a joke, sometimes a piece of shrewd observation or of odd information (Every now and again sometimes simply a zingingly described, hole-in-one, as smelling 'of metal polish and mint digestive tablets'. 1/130 signed limited £70; deluxe lettered 1/20 with raised bands and also signed by Keating – Enquire.
DEIGHTON, Len /apprec. by Allbeury. Ted, HOPE 1995 1/99 #  The books that make up the Bernard Samson three trilogies are perhaps Len Deighton's finest achievement. This is the middle book from the last trilogy. It has Bernie and Werner talking about old times and a plot is part of the larger whole. Ted Allbeury, writes about Len as a person and how success had not changed him. He also discusses the casting of Michael Caine in Funeral in Berlin as a stroke of genius. 1/99 signed limited £70; deluxe lettered 1/15 with raised bands and also signed by Allbeury enquire.
DEIGHTON, Len. FUNERAL IN BERLIN. First edition rebinding. An iconic spy fiction novel and film.  Issued in 2020 under the "Books into Film" series.  It has the signatures of Deighton and Sir Michael Caine – Harry Palmer, the super cool spy.  Twelve lettered copies produced plus the author and Palmer's secret copies.  All taken by subscribers.
FAULKS, Sebastian CHARLOTTE GRAY first edition rebinding and issued to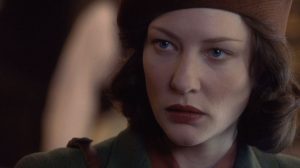 subscribers in 2020, being 1/12 lettered copies in a deluxe leather binding.  This book was selected because it dramatically portrays with emotional depth what was like for a woman SOE operative, Charlotte Gray to be parachuted into Vichy France during the war. Partly a love story, it opens up many questions the strain of living under Nazi occupation. The book contains a tribute essay approved by the author and discussion of the 2001 film starring Michael Gambon as the artist Auguste Levade, perhaps a symbolic character of the good in us and Cate Blanchett leads the cast: giving a compelling and radiant performance as both Charlotte and Dominique. Issued with a photograph of Blanchett playing Dominique.
HARTLAND, Michael /appreciation's by Homberger Eric & Allbeury Ted, YEAR OF THE SCORPION 1991 1/75 #  The author was 'in the business' serving in many posts for the secret services. He was recruited at Cambridge and learnt cryptography at GDHQ; transferred to the Home Office in Anti-Terrorism; then went to the Foreign Desk and became a diplomat working on international security involving the prevention of the proliferation of nuclear weapons. Hartland has been compared to Le Carre because of the detailed spycraft, but they are more in the adventure tradition. This novel concerns the rise of China as a global power and is set in the future. This books has an appreciation by Ted Alllbeury and Eric Homberger, an academic author on espionage places Hartland in the spy writing tradition. 1/75 signed limited £40; deluxe lettered 1/15 with raised bands and also signed by Allbeury and Homberger enquire.
HIGGINS, Jack./ apprec. by Deighton, Len, DARK JUSTICE 2004 1/85 #  Len Deighton says in his tribute that Jack Higgins studied history and taught it. Jack is famous for his wartime adventure stories – particularly The Eagle Has Landed (1976) and for his plots about the Third Reich and the Cold War. Later he concentrated on the Sean Dillon series of undercover agents in the spy world. This is one of those with the action in Washington and New York. 1/85 signed and numbered £55; deluxe lettered 1/15 with raised bands and also signed by Deighton enquire.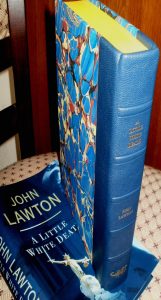 LAWTON, John. OLD FLAMES Rebinding 1/12 with raised bands. First edition 1996. Dense, full-on thoughtful espionage with a Post-War 50's background, this is the second Lawton novel concerning the real-life Buster Crabbe diver incident from 1956. Lawton made his mane with Detective Inspector Troy novels with take the detective into the world of real spies. £180.
LAWTON, John. A LITTLE WHITE DEATH Rebinding 1/12 with raised bands. First edition 1998. Dense, full-on thoughtful espionage with a Post-War 50's background, this is the third Lawton novel concerning the real-life Profumo Affair with Christine Keeler and Mandy Rice Davis. Perhaps the most famous sex scandal. But what really happened? This is 1963 and the Swinging Sixties. £180.
WILSON, Robert. A SMALL DEATH IN LISBON Rebinding 1/12 with raised bands. First edition 1999.  R reminiscent of the early Greene and Ambler thrillers, whose main character was a lone Englishman either travelling or based overseas Wilson has a body of work that combines intelligent plotting, sharp language, taut character and place descriptions, a feel for the hazards that life may throw at human relationships, as well as insights into the dark side of political events and big business plus his trademark grasp of national identities and other ways of life with Spain and Portugal featuring prominently. A Small Death in Lisbon was awarded the CWA Gold Dagger.
The grand scale of the past rolling into the present in A Small Death is achieved with two seemingly unconnected plot-lines becoming entwined. One is the German SS scheme to extract a mineral from Portuguese mines for war production; the second is the case of a modern-day murder of a schoolgirl. Both plots have memorable characters German 'fixer' and go-between Klaus Felsen and detectives Zé Coelho and Carlos Pinto his partner. The first plot unfolds over several time periods in which loyalty and trust are undermined through discrete scheming. The crimes are nasty and unforgivable, yet the ongoing cover-up over generations – is shown to be a cruel injustice. Can countries which have rightist dictatorial regimes ever be accountable? '… history is not what you read in books. It's a personal thing, and people are vengeful creatures, which is why history will never teach us anything.' Dr Aquilino Oliveira (from the novel).