H R F Keating, crime writer, sage on the masters of crime fiction and friend to many of us passed away aged 84 in March 2011.
Harry Keating was a great conversationalist on the history of crime writing and crime writers he admired. He liked the old masters and unusually among crime critics, he advocated the merits of crime writing at its best as having no distinction from the mainstream tradition of English literature. This position was an important one; he argued it in various ways over several decades in the popular media such as television and radio; it was simply for him about recognising the primacy of good writing.
Harry would talk at length on the names of the past, but it was his contemporaries for which he had a gift for understanding and a lovely affection. He particularly liked the books of P D James, Dick Francis and Len Deighton. And I know that they thought the world of him. He reviewed crime fiction for the Times and used his column to bring attention to the best writers.
Harry was a great help and inspiration for me when I began to seek out writers to do appreciations for the Scorpion Press series of crime in fine bindings. He had a wonderful way of getting inside the writer. He did perceptive pieces on Colin Dexter, Dick Francis, Len Deighton and Jonathan Gash of the big names. And with the younger writers such as Boris Akunin, Barry Maitland and Andrew Taylor he would find some storytelling comparison with the masters.
He edited the marvellous special edition of the Detection Club's anthology to mark the 80th birthday of past president Julian Symons. The Man Who ... contained in one volume the elite of all of Britain's best and most celebrated writers; their was the female heirs to Sayers and Christie in P D James and Ruth Rendell; as well as Michael Gilbert and Michael Underwood, whom had produced legal thrillers for forty years; comic crime was represented by Robert Barnard and Simon Brett; while Antonia Fraser, Peter Lovesey and Reginald Hill marvelled readers with their command of criminal storytelling. Amongst others were the new stories from Eric Ambler and Len Deighton. Harry knew them all and they were delighted and honoured to pay tribute. This Scorpion edition was one of the few to have an extra illustration, and the deluxe state came in marbled slipcase. Sadly, Julian Symons passed away just two years later in 1994.
Harry also contributed to two other crime anthologies: the mega-list of 29 stories called No Alibi with US writers such as Lawrence Block and Sara Paretsky and British writers led by Lindsey Davis, Reginald Hill, Ian Rankin and Val McDermid; and secondly, the Detective Club collection with favourites such as Colin Dexter, Robert Goddard, Reginald Hill and P D James. Both are listed below.
The following books involved H R F Keating  and are available at present:
Short stories and signed by Keating: No Alibi 1995 (29 signatures) Detection Collection 2005 (12 signatures).
Appreciations: Boris Akunin, Death of Achilles 2005,Barbara Cleverly, Ragtime in Simla 2002, Len Deighton, Violent Ward 1993, Dick Francis (essay interview) in Masters of Crime: Lionel Davidson and Dick Francis 2005, Barry Maitland, The Chalon Heads 1999 and Andrew Taylor, The Mortal Sickness 1995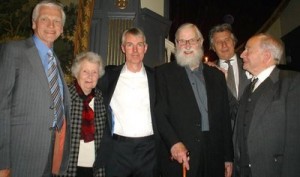 .
His readers, colleagues and friends will miss him. I found him an inspiration. Here is a super picture of Harry with his friends during the occasion of Andrew Taylor receiving the Diamond Dagger for life-time achievement.