Ian Rankin, The Hanging Garden
£50.00
Ian Rankin's creation, Inspector John Rebus is a popular hero that transcends the stereotypical detective figure. Rankin uses the form to fill out a rounded character, a sense of place and the wider social reality. The Hanging Garden was the first Scorpion Press book by Rankin. It immediately followed his break through novel Black and Blue (1997).
Out of Stock
Ian Rankin's Inspector John Rebus is probably the best known contemporary British detective series apart from Morse. The first Rebus novel, Knots and Crosses (1987) was originally conceived as a one-off, and was followed by two non-series book before the second installment arrived in 1991. In the early 90s Ian Rankin was little known and although his thrillers showed promise he lacked a market for them. This changed when he decided to work on a book twice the usual length with multiple story lines, a back story rich in Scottish heritage, with overlapping contemporary concerns. Black and Blue (1997) was critically acclaimed, received the Crime Writers' Association Gold Dagger and created the confidence and space for Rankin to develop and take the Rebus series to new levels; bringing significantly added zest to the growing book trade interest in a detective that was more about shadows and contradictions than solutions – thus noir came out of the shadows.
The combination of the seedy side of Edinburgh with the hand-drinking, tough but vulnerable policeman with humanity, and deft narratives paced like adventure stories was noted by television producers. Once the right leading man was found Rebus on the small screen came to rival other detective adaptations such as Wexford, Resnick and Morse.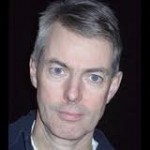 "His most complex novel is possibly The Hanging Garden (1998), with its issues of war criminals and sexual slavery as persuasively handled as you could wish". Barry Forshaw, The Rough Rough to Crime Fiction. Rebus in fact has two tough cases on his hands; as well as sorting out turf wars he is interested in a possible SS death camp survivor. The Scorpion Press edition was issued with an Appreciation by awarding winning novelist Andrew Taylor. The run was 90 numbered and signed and 15 lettered.