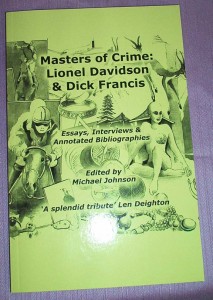 Masters of Crime: Lionel Davidson & Dick Francis – essays, interviews, bibliographies (ed. M Johnson) paperback
£10.00
Lionel Davidson was the "great hope of crime fiction" in the 1960s and the only three-time winner of the CWA Gold Dagger. His books were broadly espionage, adventure, suspense and mysteries. Dick Francis was the most prolific writer of best selling suspense-adventure stories during the last fifty years. The purpose of this book is to celebrate the writing careers in separate sections of the book: interviews by noted writers, a commentary on each book in the bibliographies, and an essay placing them in a literary/historical context. Foreword by Len Deighton, paperback edition
In Stock: 18 available
This is a tribute book aimed at collectors and those interested in popular fiction. Both Lionel Davidson and Dick Francis began highly successful careers as published authors at about the same time, 1960 and 1962 respectively. Davidson was regarded as the "great hope of crime fiction" because of his style, range – they were espionage, adventure, suspense and mysteries; he was also the only three-time winner of the CWA Gold Dagger. Dick Francis was the most prolific writer of best selling suspense-adventure stories during the last fifty years. The purpose of this book is to celebrate the writing careers in separate sections of the book: interviews by noted writers, a commentary on each book in the bibliographies, and an essay placing them in a literary/historical context. Len Deighton provided the foreword.
The introductory essay by Michael Johnson probes the relationship of popular adventure fiction through the cultural shifts in the perception of the hero figure, from the late Victorian period through to the particular contributions of Dick Francis and Lionel Davidson. The once popular adventure tale was in a hiatus until the appearance of these writers in the second half of the 20th Century. According to Michael Johnson, "Davidson's fans regard him as probably the best adventure thriller writer since the late Victorian period. Although, in truth, Davidson's talent combines emotional power, great pace and at times a comic absurdity with action, which links him very much to the English comic novel tradition as far back as his beloved Dickens". 
Michael Hartland, former spy writer, reviewer and friend of Mr Davidson undertook the interviews with him at his London home. Di
ck
Francis was to have been interviewed by  H R F Keating in Devon but an illness prevented this. Instead he did an imaginary interview based on his knowledge from his personal and professional relationship over the years, and highlights his clever plots and staggering technical expertise. The introductory essay discusses Dick Francis the author of suspense and adventure stories involving high romance and the pastoralism of a bygone idyllic era. The racing and other backgrounds such as aviation appear to have been used to develop a new kind of hero protagonist – flawed but enduring honourable men and women.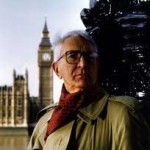 Annotated bibliographies of all the books by both authors are provided with print run sizes and points of interest. This includes Davidson's work as a screenplay writer and children's author. One of his screenplays was an adaptation of Len Deighton's The Ipcress File. The book was published with a foreword by Len Deighton in 2006, firstly as luxury hardback in leather, signed by Davidson and Francis and limited to 250 copies. This is the trade paperback edition. Lionel Davidson passed away in October 2009, aged 87 and Dick Francis in February 2010, aged 89. Both are still read and enjoyed and this book helps us to remember them.