Carol O'Connell, Killing Critics (deluxe)
£155.00
Carol O'Connell is a little less known than she deserves. Her books feature Mallory, a damaged, maverick New York police detective. She is one of a handful of recent novelists that have refreshed and added to the scope of the genre. This novel is about the art world and features an appreciation by Australian based Barry Maitland.
Out of Stock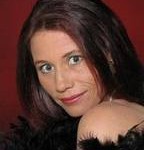 This book is one of a series of books by Carol O'Connell about a beautiful, damaged, maverick, and almost sociopathic detective named Kathleen Mallory (who insists on being called simply "Mallory") and the people that love her despite her flaws: Charles, an intelligent, rich, but ugly family friend; Lou, the cop that takes her in; and Riker, her adopted father's partner. The relationships that develop between these characters as they solve crimes together are the focus of the series. This story (the third in the series), has Mallory investigating a murder which has links to a case that her adoptive father, Lou, worked on years previously. Another interesting and touching story in the series.
Carol O' Connell came to prominence with her first novel, Mallory's Oracle (1994) which received rave reviews and blurbs from the likes of James Patterson, Jonathan Kellerman and Richard North Patterson. Kate Mallory is an orphan, a child thief that is adopted by Inspector Louis Markowitz and becomes a crimes analyst for the New York Police Department. Regarded as vulnerable by her superiors she takes to the streets to avenge her her stepfather who is slain at the beginning of the book. We soon learn, however, that the deceptively beautiful and chic Mallory is also street-wise and cunning. What O'Connell then begins to open up is Mallory's reactions to different situations, beginning with all the personal baggage, then her ongoing reactions to cold, clinical policing rules and forensics science; and her main characters inclination to be a street-fighter in the tradition of the private eye. Finally, Carol O'Connell novels are exceptional portrayals of different aspects of New York life and culture – the mix is the perception are stand out.
Ex-pat Brit living in Australia, Barry Maitland provides a clever and witty take on O'Connell's work in his Appreciation. The edition compromised 85 numbered and signed copies and 15 deluxe, also signed by Barry Maitland. This is the deluxe state with five raised bands.