Dick Francis, To the Hilt
£60.00
Dick Francis published his first mystery, "Dead Cert", in 1962. Since then, he has published 42 thrillers until his death, aged 89 in 2010. During this period Francis made the action-suspense-detective story extremely popular and arguably forged the widest fan base of any writer before or since. A new mystery from Francis was almost always a guaranteed bestseller. A former jockey himself, horse racing always plays some part in his books. Although he had been been a novelist for over 30 years it had been suggested that his broader scope novels of the 1990s – exploring other interesting professions – were vintage Francis. This mystery story is set in the Scottish Highlands with an eccentric artist hero-figure Alexander Kinloch. Dick's friend and colleague Margaret Yorke provided the appreciation
Out of Stock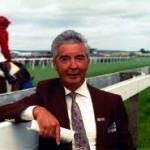 Dick Francis published his first mystery, Dead Cert, in 1962. Since then, he has published 42 thrillers until his death, aged 89 in 2010. During his career as a crime writer made the action-suspense-detective story extremely popular and arguably forged the widest fan base of any writer before or since. Each year the new Dick Francis was almost always a guaranteed bestseller.
A former jockey himself, horse racing always plays some part in his books. He achieved success early with several books that are still read today such as For Kicks (1965), Flying Finish (1966) and Forfeit (1968). In range and power as a suspense and mystery writer Francis was probably unequalled. Not only were they good puzzle books, but they had a emotional impact. His books had a strong following internationally, and especially so in the United States were he was a Grand Master. They were often centred on modest hero-figures such as the racing correspondent James Tyrone in Forfeit who looked after his invalid wife (as Frances once did himself). Although he had been been a novelist for over 30 years it had been suggested that his broader scope of his novels in the 1990s were vintage Francis – they focused more on artistic professions – rather than on skulduggery in and around the racing circuit.
Plotline: Artist Alexander Kinloch has worked out a good pattern for his life. His home is a small bothy on a remote mountain in Scotland; he paints on commission, from which he derives both pleasure and a decent income; he lives alone and likes it. One day, however, Alexander's peace is violently shattered when he returns home to find a group of strangers waiting for him. After a scuffle, he is left for dead with only the words ''Where is it?' ringing in his ears. And the days that follow contain more danger than he could ever imagine.
To the Hilt combines the racing world and the life of a loner artist in the Highlands of Scotland. It is rich in history and has a well conceived moral centre – a favourite with Francis fans and was issued in 1996 with a lovely appreciation by the highly regarded psychological suspense writer Margaret Yorke. Margaret is one of the most knowledgeable crime writers we have met. She served in the Wrens until 1945 and published her first novel in 1957. She has been awarded many accolades including one for the most borrowed writer from the Library Service. She had admired Dick Francis' achievements for many years. The print run was 99 numbered and signed copies, plus some deluxe copies for presentation purposes. They all sold fairly quickly.